Pastor

–  Reverend Brett Younger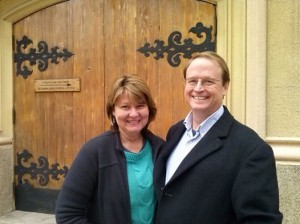 Brett Younger is delighted to be serving as the Interim Pastor of this fascinating congregation.  He was a senior pastor for twenty-two years in the United States and an interim pastor for three churches, but this is his first time serving an international, interdenominational church.  (Su espanol es patetico.)  He loves the sacred, joyful feel of worship at SCC and the warm, thoughtful feel of Bible study at SCC.  He and Bigote, the church cat, are working through their differences.
Brett and Carol, who is the editor of Reflections magazine, met at seminary.  They have two mostly grown sons, Graham and Caleb.  When Brett returns to his old life it will be as the Associate Professor of Preaching at the McAfee School of Theology at Mercer University in Atlanta, where he teaches preaching, worship, and writing.
Church Administrator

- Audrey Wilsdon 

Music Director

- Linda Craddock

Organist

– Juan Carlos Alvarado

Caretakers

- Segundo Herrera and Edith Pezoa

Assistant Caretaker

– Amanda Curin

Church Cat

– Bigote

Christian Education Coordinator

– Brooke Welborn