We seek to be a welcoming, spiritual home for English speaking people in Santiago, inspiring joyful Christian faith, and nurturing a loving community that serves our neighbors as disciples of Jesus Christ.
Hybrid* Services at SCC as of Sunday, September 26th, 2021 – we hope to see as many of you as possible in church with us!
(*Hybrid = physically and continuing online!)
If you are able to join us in person, please consider the following points:

RETURN TO PHYSICAL CHURCH ATTENDANCE:

REGISTRATION: Due to the requirement to maintain physical distancing between family groups and limited building capacity under current regulations, we need you to sign up in advance each week if you'd like to attend our services in person.
We now have two sign-up forms: an INITIAL COMPLETE sign-up form, where we ask you for all the information we need to have to follow Covid regulations; and an ABBREVIATED sign-up form, to use for the Sundays after having already filled out the Initial Complete form at least once. Please complete the appropriate sign-up form by the Friday prior to the Sunday you plan to come along. We need ONE form per family group, as family groups will be seated together.
Link to INITIAL COMPLETE SIGN-UP FORM (for first-time attendance in person since the pandemic): <https://forms.gle/s8TUcrWkV8wRrGC19>
Link to ABBREVIATED SIGN-UP FORM (if having already filled out the initial complete form) https://forms.gle/xaQBUBEktsrJmp3a8

SEAT ALLOCATION: We will send you confirmation of your seating allocation by e-mail prior to the Sunday Service. Seating is in alternate pews and you must sit in the seat assigned to you. If you have been confirmed a seat and are subsequently unable to attend, please let us know.

VENTILATION: Doors and windows must be kept open due to mandatory ventilation requirements. We suggest you bring something warm if you think you may be cold considering we cannot heat the building.

ON ARRIVAL: Entrance will be via the chapel, where your temperature will be taken and alcohol gel provided for your hands.

DURING THE SERVICE: Masks are to be worn at all times. Sunday School is offered for 4 – 7 year olds and 2nd to 6th graders. 7th to 12th graders attend church and can join up afterwards from 11.30 – 12.00 noon during the fellowship time. All children need to be signed up weekly, too – as a Covid measure.

AT THE END OF THE SERVICE: Exit will be via the side and main doors as directed by the ushers. Please vacate the church building promptly as it has to be sanitised prior to the midday service in Spanish. You are invited to join us afterwards in the front garden of the vicarage as we mingle over a cup of tea/coffee, served in disposable cups for your protection.

If you have any difficulty filling out the online form, please send us an e-mail prior to Friday to office@santiagochurch.org ("Church Attendance Sign-Up") – and await confirmation.

ZOOM Link for our Sunday Services at 10.30 am
If you want to connect manually using the zoom.us webpage, the meeting number is 728-218-386 and password: 560365
The service is also streamed live to our Facebook Page (and will remain available online) at:
Please note that Zoom access is through a waiting room because there have been problems with gatecrashers. If you are not a regular attender at SCC, please let us know beforehand that you wish to attend one of our Services and exactly what name you will be using on Zoom (via a quick e-mail to office@santiagochurch.org), so that we are able to identify you and let you in – we do want you to join us in worship!
Information on our upcoming Sunday Service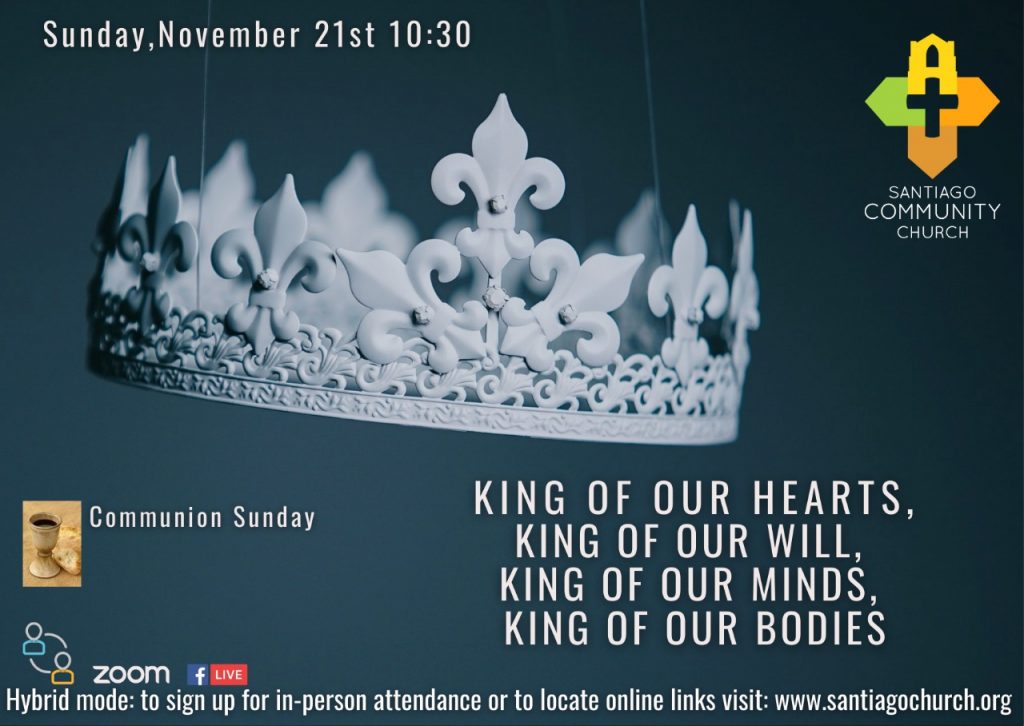 This Sunday (Nov. 21st) we shall be joining together for a Service of Holy Communion at 10.30 am (- the set readings are Rev. 1:4b-8 and John 18:33-37). Our preacher will be: Alfredo Labbé, "King of Our Hearts, King of Our Will, King of Our Minds, King of Our Bodies". Do plan to be with us in church if possible and sign up by this Friday. See the links to our Initial Comlete sign-up form if attending for the first time since the pandemic, or Abbreviated sign-up form if having already filled out the initial version.
Know that all Covid measures are being respected: You are to wear a disposable mask at all times, your temperature will be taken on arrival, alcohol will be provided for your hands, doors and windows will be open following ventilation requirements and at the end of this week all who have signed up will receive confirmation of their seat allocation(s). There will be a fellowship time in the front garden of the manse after the service where tea and coffee will be served in disposable cups (- or you may prefer to bring you own mug/thermos). Hope to see you there!
Sunday School classes
(4 – 7 year-olds on site, 2nd – 6th graders on site and online)
Please join us as we discover new and creative ways to pray to and praise our Lord.
Evening Prayer via Zoom
8.00 pm: Open Conversation and "Catching-up"
8.30 pm: Reflection and Prayer
Mondays, led by Andrés Herrera – Thursdays, led by Linda Craddock
https://zoom.us/j/899453828?pwd=blRnVHkwMVROUW9NQWhhYVFqb1Y4dz09
Password: 740785
_________
BIBLE STUDIES @ SCC
To find out how to join these SCC weekly group studies ONLINE, please call or e-mail the contact for the study you're interested in.
| | | |
| --- | --- | --- |
| Group | Monday Morning Women's Fellowship | Tuesday Men's Breakfast |
| Current Study | "Parables – The Greatest Stories Ever Told" – by John White | "Parables – The Greatest Stories Ever Told" – by John White |
| Where | Meeting in person & via Skype | Via Zoom |
| When | 10:00 am – noon | 9:00-10:30 am |
| Contact | Cindy, 9 8387 9183 | Gordon, gmyorston@gmail.com |
| | | |
| --- | --- | --- |
| Group | Wednesday Young Adult Study | Monday Afternoon Bible Study |
| Current Study | Jesus, the God who knows your name – by Max Lucado | "You Were Made For This Moment", based on Esther – by Max Lucado |
| Where | In-person at the church and via Zoom | Via Zoom |
| When | 7:30-9:00 pm | 4:00-5:30 pm |
| Contact | petronasalmon@gmail.com | office@santiagochurch.org |
Momentarily the church office staff are working from home. In the case of any queries, please send us an e-mail to office@santiagochurch.org and we'll get back to you or call Audrey on +56 9 9864 0237.