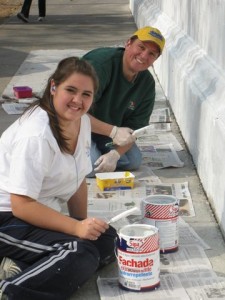 SCC is committed to reaching out beyond our own congregation to serve our neighbors in Santiago, in Chile and in the world. SCC is pleased to give at least 10% of its operating budget to various causes and projects. We also encourage our members and friends to be involved in hands-on mission opportunities.
Financial Giving includes:
Hands-On Opportunities include:
Habitat for Humanity – We participate in four to five builds per year in which we help low-income families build houses.
Fundacion Crescendo – We assist with the upkeep of the garden at the workshop, as well as interact with the participants. We also provide occasional care for residents in the group home and support the center's fundraising projects.
Hogar La Granja – We collect monthly donations of toiletries and cleaning products for the home, as well as provide special outings for the girls.
Casi Nuevo – This group meets Wednesdays at 10:00 a.m. to make blankets, doll clothes, craft books and more for children in two area cancer hospitals
Thank-you to everyone who supported our recent Angel Tree project
Here's a summary from Janis of how all your generous gifts came together: 

Gifts provided (66 in all):
33 to Hogar La Granja (25 children, 8 tías)
6 to Casa Esperanza (5 young women, 1 tía)
30 to Youth for Christ (all children)

Monetary donations collected:
Fundación Crescendo:   $ 260.000
Clamor en el Barrio:       $ 151.000 (put together with a generous donation from Men's Breakfast and other                                                                    Outreach funds to purchase a ping-pong table)
Habitat for Humanity:   $ 189.000

THANK-YOU to everyone who contributed!